Posted on | June 27, 2012 | No Comments
{Image generated by the Keep Calm-o-matic}
Paper lovers, design aficionados, trendsetters and like-minded friends — YOU'RE IN LUCK! As editor, I'm looking for guest bloggers to contribute to the PaperCuts blog and add some fresh voices. Is that you? Are you a reader and love to write? Do you have your own blog and a knack for finding the coolest things?
If you're familiar with the PaperCuts blog, then you know what kind of topics the blog covers. But just in case you're stumped and need a few ideas of what types of content for posting ideas, here are some suggestions: anything paper-related, well-designed products, arts and crafts tutorials/printables, designers and artists who are doing really cool stuff, design-related topics such as great typeface, trendsetting and fashion-forward ideas, and of course anything French-related. Take a look at the categories and post archives — you'll get a better idea of the voice and content of the PaperCuts blog. So, what are the benefits of contributing a guest post and most importantly, blogging for the PaperCuts blog?
It's a great way to gain exposure to new readers & followers
Builds brand awareness, whether it is your brand (personal or business)
Increase traffic and improve your blog's search engine authority
Share your knowledge/great find with fellow like-minded readers (and me!)
Connect with a brand (Feterie) that has fabulous social media presence and great products
Make new friends!
If you are interested in contributing a guest post for the PaperCuts blog, send an
email
with the following details:
Your contact information (name and email)
Tell me a bit about yourself
Short explanation of your ideas (one or all of them, but please make sure that the content is original and not a re-post from your own blog)
Link to your blog, work or online writing
The PaperCuts blog in trekking on an exciting journey and I can't wait for you to be a part of it! Hope to hear your ideas soon! Cheers to an exciting new journey!
P.S. If you know of someone who would be a great fit for the PaperCuts blog as a guest blogger, please share this post by using the links below.
P.S.S. Use of multiple exclamations are just fine (it's used plenty here on the PaperCuts blog).
Posted on | June 21, 2012 | No Comments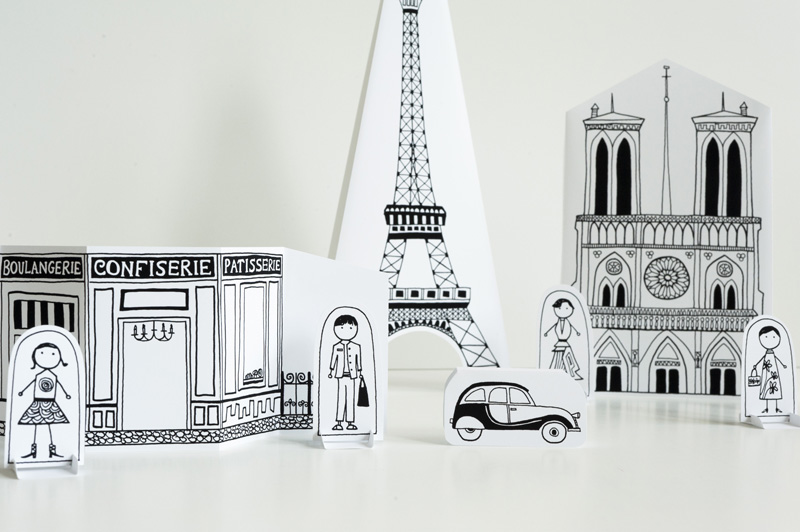 Last week, in a quest to keep my incoming first-grader busy with activities until summer school starts (yay!) I went on a hunt for Paris-related coloring pages per my son's request (his interest may have something to do with his cousins spending the summer there). The Francophile mother in me reveled in my son's interest of Paris and then we both discovered a gem of a find in Joel Henriques' Paris Paper Set. Oh, my! What a darling and playful set of landmarks illustrated in such a whimsical style. After we printed the set on cardstock, my son got to work carefully coloring the printables and then I trimmed it and folded them just as instructed. There are tons of great printables on Joel's site to print out and enjoy with your kids.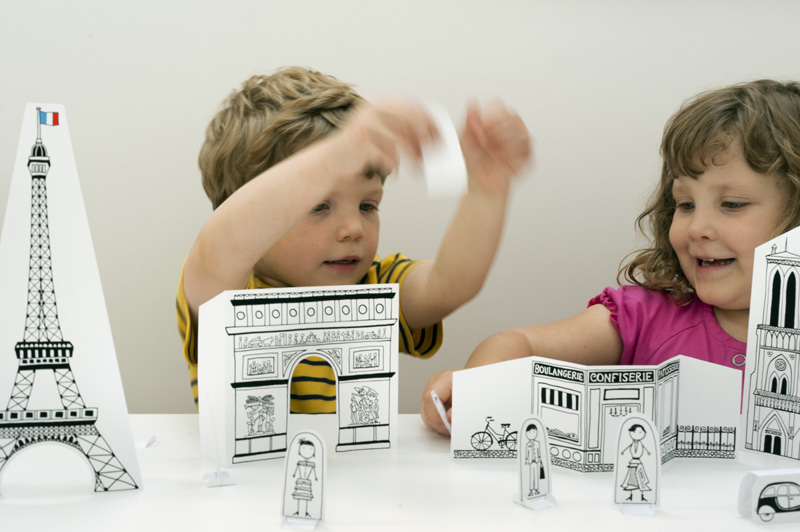 The more time I spent on Joel's site, the more excited I became to discover his other works and that he has a book called Made to Play, too! What a wonderful discovery I found in Joel's site and I can't wait to see what else he comes up with.
Posted on | June 19, 2012 | No Comments
Hello, hello! Is anyone there?
Sometimes, time passes by so fast that you don't even realize it until you remember to keep track. That's what happened to this little blog when my life took over toward the end of the school year. While we've been making adjustments to our design services and product lines (including developing new ones), tweaking the website and shop, working on new designs (and revising existing ones), getting a new intern started with the studio, launching The Curious Canopy, and implementing a new wholesale ordering system, I also having been busy juggling the duties of a kindergarten parent (and soon to be first grader!) among other crazy happenings. There is just nothing quiet and boring about the life of an entrepreneur mom as you can tell.
Woven into all the busy, busy activities was the surprise discovery that baby #3 was on the way and set to enter the world by December. Yes, another baby! Needless to say, the social media "radio silence", if you will, this past few months was unexpected.
But, here I am — clearing the cobwebs from the little corner of the world and ready for action!
Posted on | March 9, 2012 | No Comments
Lately, I've become a little obsessed about vignettes — mentally capturing little snapshots in my head and savoring the delightful story woven into each image. Now, there's a board of vignettes that I have just started of little vignettes that I've found online as well. Come visit the Vignette boardand mentally ease into the weekend with me….
Don't forget to set your clocks for spring forward this Sunday is you live in the states that observes it. Can't wait for more daylight and warmer months (just not too scorching hot). Happy, Happy Friday!
Posted on | March 7, 2012 | 4 Comments
One of the newest trends this Spring season: Printed denim! It's gotten me all excited about what that means — many possibilities and opportunities over at The Curious Canopy. I'm not talking about the acid wash, airbrush kind of decades past. These are vibrant, eclectic and bold patterns wrapping around your shape! Will you be sporting this new trend in the warmer months?
{image via Stylesight.com}
« go back
—
keep looking »